SharePoint Journey with Druva!!!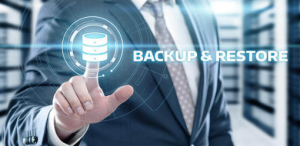 Streamline your SharePoint & Digital Transformation Journey with Druva!!!
More than a million users depend on Microsoft (Office) 365 SharePoint Online for their business-basic work processes and information. And according to the sources, one in two organizations has had a SharePoint data breach. Being not used to the vulnerability of SharePoint, users are more likely to click on malicious SharePoint links, accidental deletion, or modification.
How Druva can Help?
Fast recuperation from data loss with an optimal recovery time objective (RTO) and recovery point objective (RPO) is a must to mitigate the damaging repercussions and ensure seamless business continuity.
Users have also mentioned the business challenges faced with SharePoint online data such as;
Backing up and managing files across customers and data sources.
Accidental deletion or modification
Permanent data loss due to malicious acts
About Us (Druva | CloudFence.ai)
CloudFence Technologies is a new-age Technology firm that offers the best in Cloud Services, SaaS, CloudSec, Cyber, and Digital Transformation Solutions to clients across the globe.
We co-partner with Druva to accelerate customers on their Digital Transformation Journey and Business Continuity Solution. SharePoint remains a key repository for any organization that leverages Microsoft Office 365 technologies natively during transformation.
Druva's in Sync is built to help with cloud data protection solutions.
For a seamless self-service experience with granular data recovery options and assurances, Druva set out to extend Sync SharePoint Online support to help streamline the process of backing up and managing files across customers and data sources.
It offers easy options for automating regular SharePoint backups, helping to ensure you're ready to recover as needed.
Ease of use:
Sync uses the same common configuration for all Office 365 services. There are no additional configurations required for SharePoint Online
Auto-discovery of all site collections within a tenant.
Automatic backup of an entire site collection data.
Customizable backup frequency and retention, along with unlimited scalable storage
Flexible recovery options:
Restore from any point in time, so you're getting the data you need
Restore only what you need to support site collections, sites, and granular-level restores of files, folders, lists, etc.
Restore directly to the original site collection or to a new location
Security and data residency support:
Data can be backed up to specific regions for individual site collections.
Corporate vault experience, so only customers have access to their data, through Druva's digital envelope encryption model.
Tamper-proof audit trails, alerts, and reporting for any actions taken within inSync.
Looking for trusted and cost-effective Backup Management services? Connect with us today!.